Posts for tag: root canal treatment
By Summit Family Dental
October 11, 2018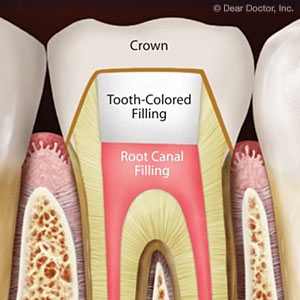 A tooth with deep decay is in real peril. If the disease isn't stopped, it can eventually infect the bone and greatly increase the risk of losing the tooth. But tooth decay removal and a root canal treatment can stop advancing decay and resulting infection in its tracks.
During this common procedure we first drill into the tooth to access the inner pulp. After removing the infected pulp tissue, we disinfect and fill the empty chamber and root canals with gutta percha. We then seal the tooth and crown it to protect against re-infection.
But while most root canals are successful and long-lasting, sometimes the tooth becomes re-infected. Here are 3 factors that could affect the long-term success of a root canal treatment.
Early treatment. Like many health problems, the sooner we detect decay and treat it, the better the outcome. A tooth in which the infection has already advanced beyond the pulp is at greater risk for re-infection than one in which the infection is localized in the pulp. Keeping up your regular dental visits as well as seeing the dentist at the first sign of abnormality—spots on the teeth or pain—can increase your chances of early diagnosis.
Tooth complications. Front teeth with their single roots and canals are much easier to access and treat than a back molar with an intricate root canal network. Root canals can also be extremely narrow making them easy to miss during treatment. In cases like this the expertise and advanced equipment of an endodontist (a specialist in root canal treatment) could help increase the odds of success in complex situations.
The aging process. Teeth do wear over time and become more brittle, making them increasingly susceptible to fracture. A previous root canal treatment on an aging tooth might also increase the fracture risk. To avoid this, it's important for the tooth to receive a crown after the procedure to protect the tooth not only from re-infection but undue stress during chewing. In some situations, we may also need to place a post with a bonded composite buildup within the tooth to give it extra support.
Even if a tooth has these or similar complications, a root canal treatment may still be advisable. The benefits for preserving a decayed tooth often far outweigh the risks of re-infection.
If you would like more information on root canal treatments, please contact us or schedule an appointment for a consultation. You can also learn more about this topic by reading the Dear Doctor magazine article "Root Canal Treatment."
By Summit Family Dental
September 01, 2018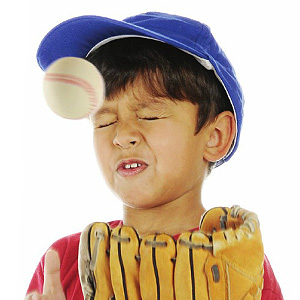 Children have a lot of energy that's often channeled through physical activities and sports. Unfortunately, this also increases their risk of injuries, particularly to their teeth.
Injuries to the mouth can endanger permanent teeth's survival. For an older tooth, a root canal treatment might be in order. Not so, though, for a pre-adolescent tooth, even if it is permanent.
A young permanent tooth is still developing dentin, the large layer just below the enamel. This growth depends on the connective tissue, blood vessels and nerves within the pulp in the center of the tooth. Because a root canal treatment removes all of this tissue, it could stunt dentin and root growth and endanger the tooth's future.
Instead, we may need to treat it with one of a number of modified versions of a root canal, depending on what we find. If the tooth's pulp is unexposed, for example, we may need only to remove the damaged dentin, while still leaving a barrier of dentin to protect the pulp. We then apply an antibacterial agent to minimize infection and fill in the area where we've removed tooth structure.
If some of the pulp is exposed, we may perform a pulpotomy to remove just the affected pulp and any overgrown tissue. We then place a substance that encourages dentin growth and seal it in with a filling. If we go deeper toward the root end, we might also perform procedures that encourage the remaining pulp to form into a root end to stabilize the tooth.
If the entire pulp has been damaged beyond salvage, we may then turn to a procedure called an apexification. In this case we clean out the pulp chamber; at the root end we place mineral trioxide aggregate (MTA), a growth stimulator that encourages surrounding bone to heal and grow. We then fill in the root canals and chamber with a special filling called gutta percha to seal the tooth.
The deeper we must penetrate into the pulp, the higher the chances the young tooth's dentin and roots won't form properly, leading to later problems and possible loss. But by employing the appropriate one of these methods, we can minimize the risk and give your child's damaged tooth a fighting chance.
If you would like more information on children and dental injuries, please contact us or schedule an appointment for a consultation. You can also learn more about this topic by reading the Dear Doctor magazine article "Saving New Permanent Teeth after Injury."
By Summit Family Dental
August 19, 2016
Your tooth is in peril if its innermost layer, the pulp, becomes infected and inflamed. Deep tooth decay, repeated dental procedures or fractures can all expose the pulp and ultimately the roots to infection and lead to tooth loss.
But that scenario isn't inevitable — we can often save the tooth with a root canal treatment. By accessing the tooth's interior through a prepared hole, we're able to clean out the infected tissue in the pulp chamber and root canals, and fill the empty space with a special filling. We then cap the tooth with a custom crown to protect it from a re-infection.
Root canal treatments have a very high success rate — chances are good your tooth will survive for many years afterward. But there's a slight chance the tooth may become re-infected; in that case, a second root canal treatment may be in order.
In a few cases, though, a second root canal may not be advisable, and could even accelerate damage to the tooth. For example, if past dental work resulted in an extensive crown restoration, accessing the root canals the conventional way will require disassembling that restoration. This could weaken the tooth significantly.
We can approach the problem from a different route: instead of accessing the tooth's interior through the crown (the visible part of the tooth), we instead perform a surgical procedure called an apicoectomy, which accesses the tooth at the root end through the gums.
In this procedure we numb the area with local anesthesia and then make a small incision through the gums at the level of the affected root. After access, we remove any diseased tissue around the root and a few millimeters of the root tip itself. We then insert a small filling in its place to seal the canal and prevent further infection. In some cases we may also insert a graft to encourage bone growth and aid in healing.
Over time, the affected area will heal and return to normal function. Even if a traditional root canal treatment can't be used, an apicoectomy could be another option for saving your tooth.
If you would like more information on your options for preserving a problem tooth, please contact us or schedule an appointment for a consultation. You can also learn more about this topic by reading the Dear Doctor magazine article "Apicoectomy."