Posts for: July, 2019
By Summit Family Dental
July 18, 2019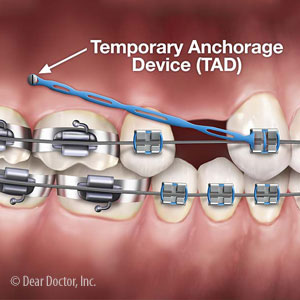 While braces are often the stars for straightening smiles, they're not the only cast members in an orthodontic production. Orthodontists occasionally turn to other appliances if the bite problem is challenging. Whatever the tool, though, they usually have something in common—they use the principle of anchorage.
To understand anchorage, let's first consider the classic kid's game Tug of War. With teams on either end of a rope, the object is to pull the opposing team across the center line before they pull you. To maximize your pulling force, the player at the back of your rope, usually your stoutest member, holds steady or "anchors" the rest of the team.
Like a Tug of War team, braces exert force against the teeth. This stimulates the supporting periodontal ligament to remodel itself and allow the teeth to move. The braces use the teeth they are attached to as anchors, which in a lot of cases are the back teeth. By attaching a thin wire to the brackets or braces on the teeth, the orthodontist includes all the teeth on the arch, from one end to the other. Anchored in place, the wire can maintain a constant pressure against the teeth to move them.
But not all bite situations are this straightforward. Sometimes an orthodontist needs to influence jaw growth in addition to teeth movement. For this purpose, they often use orthodontic headgear, which runs around the back of the head or neck and attaches to orthodontic brackets on the teeth. It still involves an anchor but in this case it's the patient's own skull.
In some situations, an orthodontist may feel he or she needs more anchorage as the teeth alone may not be enough. For this, they might establish a separate or additional anchor point using a temporary anchorage device (TAD). A TAD resembles a tiny screw that's inserted into the jawbone near the tooth intended for movement. The orthodontist can then attach the TAD to braces hardware using some form of elastics. After treatment, they remove the TAD.
These are just a couple examples of specialized tools an orthodontist can use for bite correction. Thanks to them and similar devices, even the most complex bite problem can be overcome to create a healthier and more attractive smile.
If you would like more information on correcting a poor bite, please contact us or schedule an appointment for a consultation. You can also learn more about this topic by reading the Dear Doctor magazine article "Orthodontic Headgear & Other Anchorage Appliances."
By Summit Family Dental
July 08, 2019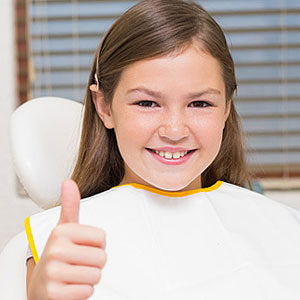 Regular dental visits are an important part of teeth and gum health at any age, including young children. But the clinical nature of a dental office can be intimidating to children and create in them an anxiety that could carry over into adulthood and disrupt future care.
You can, though, take steps to "de-stress" your child's dental visits. Here are 3 ways to reduce your child's dental anxiety.
Start visits early. Most dentists and pediatricians recommend your child's first visit around age one. By then, many of their primary teeth have already erupted and in need of monitoring and decay prevention measures. Beginning visits early rather than later in childhood also seems to dampen the development of dental visit anxiety.
Take advantage of sedation therapy. Even with the best calming efforts, some children still experience nervousness during dental visits. Your dentist may be able to help by administering a mild sedative before and during a visit to help your child relax. These medications aren't the same as anesthesia, which numbs the body from pain—they simply take the edge off your child's anxiety while leaving them awake and alert. Coupled with positive reinforcement, sedation could help your child have a more pleasant dental visit experience.
Set the example. Children naturally follow the behavior and attitudes of their parents or caregivers. If they see you taking your own hygiene practices seriously, they're more likely to do the same. Similarly, if they notice you're uncomfortable during a dental visit, they'll interpret that as sufficient reason to feel the same way. So, treat going to the dentist as an "adventure," with a reward at the end. And stay calm—if you're calm and unafraid, they can be too.
If you would like more information on effective dental care for kids, please contact us or schedule an appointment for a consultation. You can also learn more about this topic by reading the Dear Doctor magazine article "Taking the Stress out of Dentistry for Kids."