Posts for: March, 2019
By Summit Family Dental
March 20, 2019
It might not rise to the level of a miracle, but cosmetic dentistry can achieve some amazing outcomes with unattractive teeth. A skilled and experienced dentist can turn "ugly ducklings" into beautiful "swans." And that achievement might not be as in-depth or expensive as you might think, thanks to the increased use of dental materials called composite resins.
Composite resins are pliable, tooth-colored materials we apply directly to tooth surfaces. They're most often used with broken, chipped or misshapen front teeth—the composite material replaces the missing tooth structure.
Composite resins have been around for decades, but haven't been widely used because they didn't have the strength of dental porcelain. In recent years, though, dentists have perfected techniques for bonding and shaping composites to teeth that have increased their durability. With just the right skill and artistry, composites can look like natural teeth.
We can correct many tooth flaws using composite resins right in our office. After roughening up the outer enamel surface of the tooth and performing other steps to aid bonding, we begin applying liquid resins to form a base layer that we then harden with a special light source. We continue to add layers to increase the color depth and shape of the restoration, before finally polishing it to resemble natural teeth.
Composite restorations are ideal for moderate tooth structure loss, but may not be appropriate for heavily worn, previously root canal-treated or fractured teeth. These and other kinds of flaws may require a different solution such as a dental porcelain restoration with veneers or crowns. Where composites can be used, though, they provide an affordable option that doesn't require an outside dental lab for fabrication—we can often perform it in one visit.
If you'd like to consider a composite resin restoration for a less than perfect tooth, see us for a complete examination and consultation. If your situation appears to be compatible for using this particular technique, composite resins could change your smile for the better in just a few minutes.
If you would like more information on how we can improve your smile, please contact us or schedule an appointment for a consultation. You can also learn more about this topic by reading the Dear Doctor magazine article "Artistic Repair of Front Teeth with Composite Resin."
By Summit Family Dental
March 10, 2019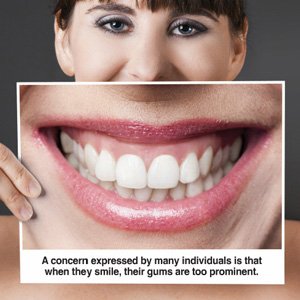 A beautiful smile is a balanced smile, especially in regard to your gums. A normal smile usually shows 4 mm or less of gum tissue along with about 10 mm of tooth length. But if your gums show more than that, your smile may seem too gummy. In terms of perceived balance, this could detract from your smile's attractiveness.
Fortunately, you don't have to live with a gummy smile—there are various ways to correct or minimize its effect. First, though, we'll need to determine the underlying cause before deciding on the best treatment. And, there are several possible causes, the obvious being too much gum tissue present. Teeth that appear shorter due to wear or incomplete eruption could also make the gums appear larger.
We may be able to correct these size problems by surgically removing and reshaping excess gum tissues and possibly the underlying bone to reveal more of the teeth. We can also bond composite resins or porcelain veneers to shorter teeth to make them appear larger.
But not all gummy smile problems pertain directly to the teeth and gums; instead, it could be your upper lip moves too far up as you smile (hypermobility). Or, your upper jaw may be too long for your face, which can also cause too much of the gums to show during smiling.
With upper lip hypermobility, we may be able to inhibit the lip muscles' movement temporarily with Botox injections that partially paralyze the muscles (the effect eventually wears off, so this treatment will need to be repeated). A periodontist, an oral surgeon, or a plastic surgeon could also permanently alter the upper lip movement through a surgical procedure. Surgery may also be necessary for an abnormally long upper jaw: orthognathic surgery re-positions the jaw to the skull, which can lessen the amount of gums showing.
If your smile is too gummy, we can transform it. But first, let's find out what the real cause is with a comprehensive dental examination. Once we know, we can better advise you on the best way to bring beautiful balance to your smile.
If you would like more information on improving a gummy smile, please contact us or schedule an appointment for a consultation. You can also learn more about this topic by reading the Dear Doctor magazine article "Gummy Smiles."