Posts for: January, 2015
By Summit Family Dental
January 29, 2015
Imagine how different things would have been for movie star James Dean, had he not managed to replace the front teeth he lost as a youngster. According to one biography of the 1950s heartthrob, Dean's teeth were knocked out while he was swinging around on a homemade trapeze. Because his smile was restored, Dean was able to land the plumb movie roles that catapulted him to stardom.
This is perhaps the ultimate example of how a smile makeover can create new opportunities for a person. But opinion polls confirm that nearly 90% of adults feel an attractive smile is an important social and career asset. And, an almost equal percentage of adults feel that their smile could use some improvement.
Are you unhappy with your smile? Is a smile makeover something you've ever thought about? Dear Doctor magazine has come up with a great list of questions you can ask yourself to figure out if you would benefit from this life-changing experience:
Do you avoid smiling in photos?

Are you conscious about spaces and gaps in your teeth?

Are your teeth making you look older than you feel?

Have you held back a smile?

Do you feel that your teeth are stained or too yellow?

Do you hold your hand up in front of your mouth when speaking or laughing?

Do you notice areas of excessive tooth wear that make your smile look older?

Do you have little teeth and a gummy smile?

Are your teeth crooked, chipped or crowded?

Do you wish you had someone else's smile?
If you answered "yes" to any of these questions, please come in and see us. We have an amazing array of cosmetic procedures available to us — far more than what was available to James Dean in the 1950s. These options range from relatively inexpensive teeth whitening treatments to more permanent cosmetic solutions such as porcelain crowns and veneers. Together we can come up with a plan to give you the smile you've always dreamed about.
If you would like more information about what a smile makeover could mean for you, please contact us or schedule an appointment. You can learn more about smile makeovers by reading the Dear Doctor magazine article "Beautiful Smiles by Design." Dear Doctor also has more on "The Impact of a Smile Makeover."
By Summit Family Dental
January 14, 2015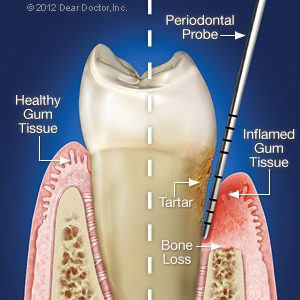 When we refer to periodontal (gum) disease, we're actually talking about a family of progressive, infectious diseases that attack the gums and other tissues attached to the teeth. Caused primarily by bacterial plaque left on tooth surfaces from inefficient oral hygiene, gum disease can ultimately lead to tooth loss.
There's only one way to stop the infection and restore health to diseased tissues — remove all of the offending plaque and calculus (hardened plaque deposits) possible from tooth and gum surfaces, including below the gum line at the roots. The basic tools for this task are specialized hand instruments called scalers or ultrasonic equipment that vibrates plaque loose. A series of cleaning sessions using these tools could stop the infection and promote healing if followed with a consistent, efficient daily hygiene habit.
There are times, however, when the infection has progressed so deeply below the gum line or into the tissues that it requires other procedures to remove the plaque and infected tissue. One such situation is the formation of an abscess within the gum tissues, a pus-filled sac that has developed in response to infection. After administering local anesthesia, the abscess must be treated to remove the cause and allow the infectious fluid to drain. The area is then thoroughly flushed with saline or an antibacterial solution.
The gum tissues are not completely attached to the tooth surface for a small distance creating a space. These spaces are called periodontal pockets when they are inflamed and continue to deepen as the disease progresses. These inflamed and sometimes pus-filled pockets form when tissues damaged by the infection detach from the teeth. If the pockets are located near the gum line, it may be possible to clean out the infectious material using scaling techniques. If, however, they're located four or more millimeters below the gum line a technique known as root planing may be needed, where plaque and calculus are shaved or "planed" from the root surface. As the disease progresses and the pockets deepen, it may also be necessary for surgical intervention to gain access to the tooth roots.
To stop gum disease and promote soft tissue healing, we should use any or all treatment tools at our disposal to reach even the most difficult places for removing plaque and calculus. The end result — a saved tooth — is well worth the effort.
If you would like more information on treating periodontal disease, please contact us or schedule an appointment for a consultation. You can also learn more about this topic by reading the Dear Doctor magazine article "Treating Difficult Areas of Periodontal Disease."