Posts for: September, 2014
By Summit Family Dental
September 24, 2014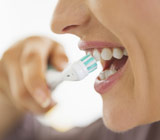 By the time you reach adulthood, roughly 100 trillion microscopic organisms will have taken up residence in and on your body, outnumbering your own cells 10 to 1. Most are bacteria, a domain of the animal kingdom considered synonymous with disease. But only a few of the thousands of bacterial species cause us harm; the rest are either benign or actually beneficial to our health, including in our mouths.
Dentistry pioneered much of our knowledge about bacteria, developing processes used to identify, classify and understand those species inhabiting our mouths. Science as a whole is catching up with the Human Microbiome Project (HMP) begun in 2007. Through HMP, researchers have catalogued and begun to study more than 10,000 bacterial species.
We're finding that our bodies develop a symbiotic relationship with many of these creatures invisible to the naked eye. During our infancy the bacteria we ingest from birth and breast feeding begin to interact with our body's immune system, "teaching" it to refrain from attacking friendly organisms that contribute to health and searching and destroying enemy species that cause disease.
We're also learning that an imbalance with our individual population of bacteria has links with disease. Our digestive system is a prime example: bacteria related to obesity can overpopulate our digestive tract, while malnutrition can create an environment that produces too many bacteria that inhibit digestion of vitamins and other nutrients.
The same microbial imbalance can occur in the mouth. For example, our typical Western diet encourages the growth of bacteria most associated with tooth decay (Streptococcus mutans). We're also finding that tobacco smoking creates a mouth environment more conducive to the bacteria that cause gum disease. Just by quitting smoking you can alter that environment to encourage growth of health-promoting bacteria and inhibit growth of malevolent species.
The desired outcome of this knowledge is to develop treatments that target disease-causing bacteria without harming those beneficial to us (as often occurs with traditional antibiotics). In dentistry, such possibilities could help stop the spread of tooth decay, gum disease or similar bacterial infections, while fostering a healthier oral environment that prevents disease and protects health.
If you would like more information on healthy aspects of bacteria, please contact us or schedule an appointment for a consultation.
By Summit Family Dental
September 09, 2014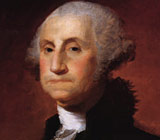 Everyone knows that George Washington wore false teeth. Quick, now, what were our first President's dentures made of?
Did you say wood? Along with the cherry tree, that's one of the most persistent myths about the father of our country. In fact, Washington had several sets of dentures — made of gold, hippopotamus tusk, and animal teeth, among other things — but none of them were made of wood.
Washington's dental troubles were well documented, and likely caused some discomfort through much of his life. He began losing teeth at the age of 22, and had only one natural tooth remaining when he took office. (He lost that one before finishing his first term.) Portraits painted several years apart show scars on his cheeks and a decreasing distance between his nose and chin, indicating persistent dental problems.
Dentistry has come a long way in the two-and-a-half centuries since Washington began losing his teeth. Yet edentulism — the complete loss of all permanent teeth — remains a major public health issue. Did you know that 26% of U.S. adults between 65 and 74 years of age have no natural teeth remaining?
Tooth loss leads to loss of the underlying bone in the jaw, making a person seem older and more severe-looking (just look at those later portraits of Washington). But the problems associated with lost teeth aren't limited to cosmetic flaws. Individuals lacking teeth sometimes have trouble getting adequate nutrition, and may be at increased risk for systemic health disorders.
Fortunately, modern dentistry offers a number of ways that the problem of tooth loss can be overcome. One of the most common is still — you guessed it — removable dentures. Prosthetic teeth that are well-designed and properly fitted offer an attractive and practical replacement when the natural teeth can't be saved. Working together with you, our office can provide a set of dentures that feel, fit, and function normally — and look great too.
There are also some state-of-the art methods that can make wearing dentures an even better experience. For example, to increase stability and comfort, the whole lower denture can be supported with just two dental implants placed in the lower jaw. This is referred to as an implant supported overdenture. This approach eliminates the need for dental adhesives, and many people find it boosts their confidence as well.
If you have questions about dentures, please contact us or schedule an appointment for a consultation. You can learn more in the Dear Doctor magazine articles "Removable Full Dentures" and "Implant Overdentures for the Lower Jaw."