Posts for: June, 2014
By Summit Family Dental
June 20, 2014
According to NFL football legend Jerry Rice, "Football can be brutal—injuries, including those to the face and mouth, are a common risk for any player." And if anyone should know, it would be Jerry.
During an interview with Dear Doctor magazine, the retired NFL pro discussed his good fortune to have had just a few minor dental injuries during his pro playing days. He credits this success to the trainers and protective equipment professional football teams have to keep the players off the injured list. However, this was not the case during his earlier years in football. "There wasn't a lot of focus on protecting your teeth in high school," he said. "You had to buy your own mouthguard." He continued, "Things changed, though, when I went to college."
Unfortunately, not much has changed since Jerry's high school days for young athletes. This is why we feel it is so important that parents and caregivers understand the risks and take proactive steps towards protecting the teeth, gums, bone and soft tissues of their children with a mouthguard. This is especially true for anyone — adults included — participating in high-contact sports such as basketball, baseball, hockey (field and ice), football, soccer, wrestling, martial arts, boxing and activities such as skateboarding, in-line skating and skydiving.
But all mouthguards are not the same. The best mouthguard, based upon evidence-based research, is one that is custom-designed and made by a dental professional, with the athlete's individual needs taken into account.
We make our custom mouthguards from precise and exact molds of your teeth, and we use resilient and tear-resistant materials. Once completed, it should be comfortable yet fit snugly so that you are able to talk and breathe easily with it in place. It should also be odorless, tasteless, not bulky and have excellent retention, fit and sufficient thickness in critical areas.
And while mouthguards may seem indestructible, they do require proper care. You should clean it before and after each use with a toothbrush and toothpaste, transport and store the mouthguard in a sturdy container that has vents, make sure not to leave it in the sun or in hot water and rinse it with cold, soapy water or mouthwash after each use. And last but not least, you should periodically check it for wear and tear so that you will know when replacement is needed.
To learn more about mouthguards, continue reading the Dear Doctor magazine article "Athletic Mouthguards." Or you can contact us today to schedule an appointment so that we can conduct a thorough examination and make molds of your teeth for your custom mouthguard. And if you want to read the entire feature article on Jerry Rice continue reading "Jerry Rice — An Unbelievable Rise To NFL Stardom."
By Summit Family Dental
June 05, 2014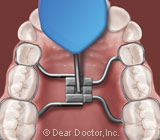 Have you heard of palatal expanders? If your child needs orthodontic work, then you ought to hear about them! These small appliances offer plenty of advantages to kids whose smiles, due to a variety of problems, may need some help. Here are five things you should know:
1. Palatal expanders are small orthodontic appliances that fit inside the mouth.
Custom-fabricated for each child, these devices are placed near the roof of the mouth, in between the two rows of upper teeth. They consist of two small metal brackets with a tensioning system that can be adjusted by a tiny key. Not everyone needs one, but they can really benefit kids with certain orthodontic conditions.
2. Palatal expanders take advantage of a child's natural growth processes.
That's part of the reason they work so well. Since the bones of a child's upper jaw don't fuse together until sometime after puberty, it's relatively easy to move them apart before that time. The palatal expander applies gentle pressure to gradually move the left and right halves of the upper jaw apart, over a period of a few months. Then it's left on several weeks longer, allowing new bone to fill in and stabilize the expansion.
3. Palatal expanders are helpful in treating a variety of orthodontic problems.
Crowding — that is, not having enough space in the jaw to accommodate all of the teeth — is one major issue. A related issue is impacted teeth: These are teeth that are blocked from coming in (erupting) by other teeth or jaw structures. A third issue is crossbite: That's when the back top teeth come down to bite inside, rather than outside, the bottom teeth. Gaining additional space in the upper jaw can help relieve all of these problems.
4. Palatal expanders can eliminate the need for tooth extraction.
Once upon a time, extraction was the only way to solve these problems. However it's an invasive (and potentially complex) procedure. A palatal expander can often provide the same — or better — results, via a noninvasive method.
5. Palatal expanders typically shorten overall orthodontic treatment time.
They're generally worn for a total of three to six months, but they can considerably shorten a child's overall orthodontic treatment time. Plus, they're invisible — a big plus to image-conscious teens. Could they benefit your child?
If you have questions about palatal expanders, please contact us or schedule an appointment for a consultation. You can learn more in the Dear Doctor magazine articles "Palatal Expanders" and "The Magic of Orthodontics."